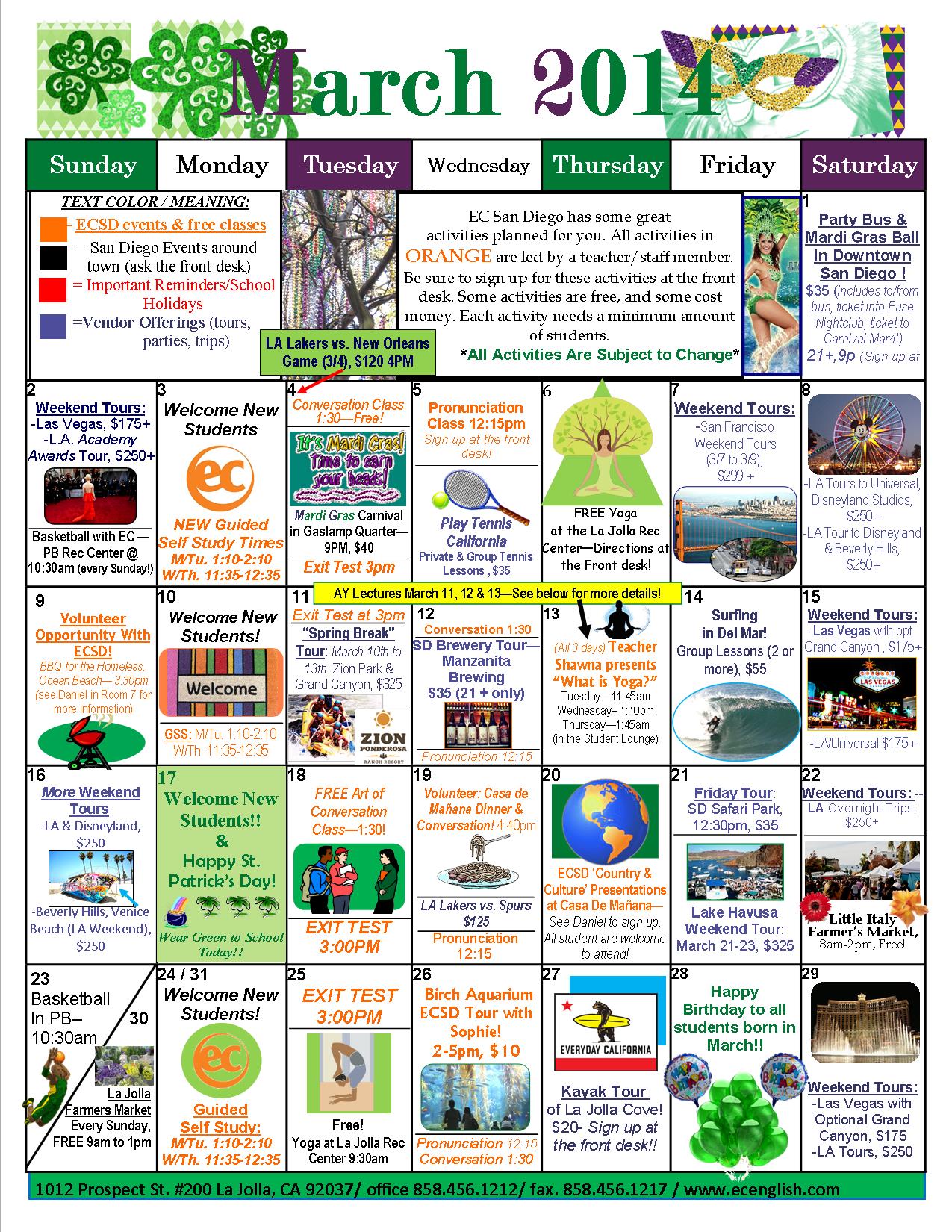 What's on the menu for March? Everything!
EC San Diego knows that participating in activities at school and around San Diego helps our students to learn English quickly and effectively. Here are a few of the many activities offered by EC San Diego this month:
March 4th: Come to school ready to "Earn Your Beads" & celebrate Mardi Gras! During their Core classes, students will participate in fun, yet challenging, English games and activities to earn their yellow, purple, and green Mardi Gras beads! The celebration continues after hours in San Diego's Gaslamp district for this year's Mardi Gras Carnival and Parade!
March 9th: EC San Diego is hosting another "Feed the Homeless" Volunteer event in Ocean Beach! This event will be held at Saratoga Park next to the beach from 3:30-630pm. This event is a favorite of Academic Year English Course

 

Coordinator Daniel Heckmyer, who will be hosting the BBQ along with EC San Diego teachers & staff. Make sure to sign up at the front desk! Donations welcome. 
March 11th, 12th, & 13th: AY Lectures ALL THREE DAYS with EC San Diego Teacher Shawna! Shawna will present on the history of Yoga as well as yoga practices seen today. These lectures are always free, and are mandatory for all AY students. Everyone else is welcome to join us for this exciting lecture series! Improve English listening skills – and learn how to enjoy the benefits of yoga! See Daniel in Room 7 for more information & lectures times.
March 26th: EC San Diego trip to the incredible Birch Aquarium! Join Student Services Counselor Sophie at 2pm to enjoy the amazing sights & sounds of the local Birch Aquarium (more information at http://aquarium.ucsd.edu/). $10 – sign up and pay at the front desk!!
We are so ready for March!
Comments
comments