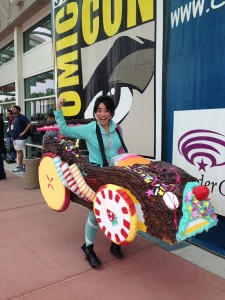 "Veneloppe" – Wreck It Ralph
This past weekend large crowds gathered in downtown San Diego for the annual Comic-Con convention which lasts four days and is located at the San Diego Convention Center. The San Diego Comic-Con is an event that features popular arts such as comics, video games, animation as well as television and film. More than 100,000 people attended!! Of the many attendees, you may see individuals participate in cosplay which is when fans dress up as their favorite character. Not only do fans atten, but also the creators of the featured comics will take part in the event. Several directors and cast members will spend time talking to fans and answering questions about upcoming episodes or previews that have yet to be released.  The Comic-Con experience includes a schedule with hundreds of different events including workshops, games, costume contests (with prizes), autograph areas, art shows, and many more!
Some highlights of this year's Comic-Con include a surprise appearance by Matthew McConaughey who was promoting his new movie Interstellar, which is a film about a space adventure and is set to release in November of this year. Furthermore, Daniel Radcliffe, known around the world as "Harry Potter", arrived to the scene dressed in a Spiderman costume! Who would've guessed Harry Potter was a Spiderman fan! For all of you super hero fanatics, the Avengers panel at Comic-Con was packed with cast members, such as Robert Downy Jr. (Iron Man), Chris Hemsworth (Thor), Chris Evans (Captain America), Ben Affleck and Henry Cavill of Batman V Superman: Dawn of Justice. All showed up to promote the upcoming release of Marvel's The Age of Ultron.
Next year's Comic-Con will be held July 9-12 at the San Diego Convention Center. Remember to purchase your tickets before they sell out!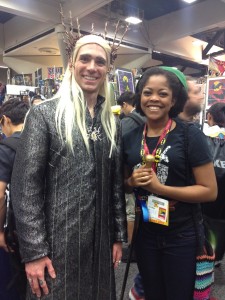 (Left) "Thranduil" –Lord of the Rings
(Right) "Link" – Legends of Zelda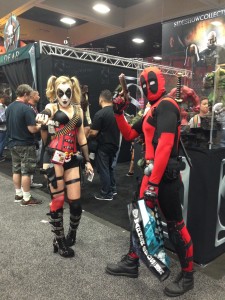 (Left) "Deadpool" – Marvel Comic Anti-Hero
(Right) "Harley Quinn" – Villain from Batman
Comments
comments