At EC Washington, we are constantly seeking the best events and ideas to incorporate into our courses. This week, our Advanced students visited the Brookings Institute, a well-known think tank in Washington DC, and one of the top, most influential policy institutes in the USA. They attended a panel discussion on globalism and populism, "Cities in the age of Trump and Brexit," 

with Rahm Emanuel, Mayor of Chicago, and Tristram Hunt, UK Parliament Member.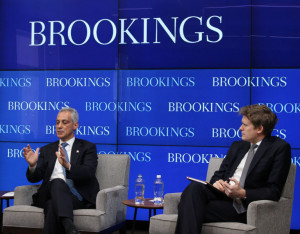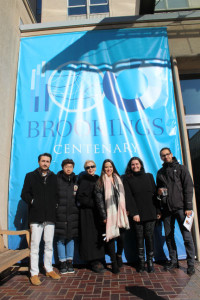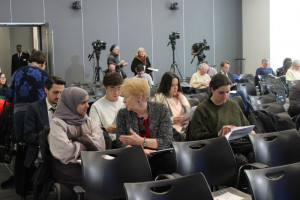 Paola from Colombia, who graduated last week
, describes her experience at this unique DC event, and her feelings about her EC experience overall: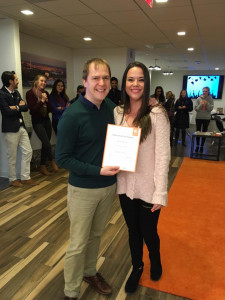 Paola:
"Today we had the chance to participate in a conference in the Brookings Institute. The mayor of Chicago and a UK member of Parliament were there, and the panel was about the challenges the cities face today in a globalized world. I think these kind of course activities really allow us to be in a professional environment, to acquire skills, improve our English and use the language into our professional fields. Those kinds of interactive classes are the most useful to me. The teachers and staff here in EC DC have the knowledge to make the classes real learning experiences.
In general, DC is a great city to know think tanks and to be closer to the research that they do. If you are here in DC and you have the chance to participate in these activities, you should do it. In this city the level of the discussions and the public debates are great for people who want to advance their English skills and implement them to their professional careers."
Would you say that your course here in DC has helped you in your language and cultural immersion?
I came here in June for two weeks and in that time, I saw that by being here I could acquire the level of English I wanted to have. In class, the topics were all about politics, economy, international relations, really high level topics and conversations. This was what I was looking for and I decided to come back for three and a half more months and I am very satisfied. Both the activities and the methodology, the topics and the debates, allow students to get closer to a professional environment and that is the reason I decided to come back and stay longer.
Which is the reason you have chosen EC Washington?
The reason I chose EC Washington is because of the English for Work program and the fact that DC is the center of politics and international relations. I have studied government and International Relations and this city for me is great! I wanted to be closer to these kinds of events, political and social conversations. Through my EC Washington course, I have learnt a lot about the US politics and culture.
Comments
comments