Our visit to the Wall Street Journal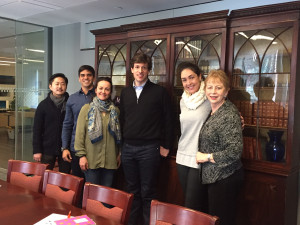 On Friday, February 10th, our advanced class took the elevator up one floor and visited the Wall Street Journal. It is indeed unique and lucky that our school is so close to such important and well-known institutions like the WSJ! Our students had the opportunity to sit down with Nick Timiraos, a WSJ journalist, and interview him about his contribution to the Journal and his work as a reporter. Mr. Timiraos was very friendly and dedicated a lot of time to answer all of our students' questions in detail.
However, it is better to read Hyunsung Joo's first hand experience, as he was one of the students who attended the interview.
Interview with Hyunsung Joo:
"We all met on the 7th floor in front of the elevator and we went to the 8th floor, to the Wall Street Journal offices. There, we met the reporter Nick Timiraos and we sat together around a table. He started speaking about his background and how long he has been working at the Wall Street Journal. He specializes in economic policy work. He writes many articles about economics and public policies. We asked many questions and he was very friendly. He spoke a bit fast but for me it was not bad because his accent was very clear. He used more advanced vocabulary and many economic terms.
Every one of our group asked him five questions. I asked him about the protective trade. My question was: "As a journalist what do you think about the new government's policy about the protective trade? How do you think it will affect the U.S. economy?" He gave a big answer and he said that there is a lot of controversy about this subject and he isn't sure what will happen in the future.
Finally, it was very interesting to know what journalists think of social media. He told us that in the past, reporters had more time to rest because of the newspapers. Now, they have no time to rest because they need to upload articles on twitter, and other social media. Even the president uses the twitter, so journalists need to be there to read the news and respond."
Thank you Hyunsung for describing your experience at the Wall Street Journal! We are always happy to hear that our students are enjoying their learning journey at EC Washington, DC!
Comments
comments