Coming to a new country when you're not fluent in the native language can be a scary experience. For some of our students, this is their first time in the United States, and for others, it is the first time they have ever left their country and been away from their family. Some have come to the U.S. for business or vacation on previous trips, but still found themselves nervous upon arrival. That got us thinking: what advice would a current EC Washington English School student give to a new student, or someone who was planning to come to EC Washington, DC to study English? So, we asked!
Our student Levi from Switzerland had the following advice: "DC is spread out, so you will walk a lot- which is good exercise! Bring good shoes. Be prepared when you come here. Look up if your  credit card has fees for use abroad, and make photocopies of your passport and credit cards. Come with an open mind. People are nice, but you must be respectful of other people. If you are, you will have no problem making friends. Be respectful of other cultures and other points of view"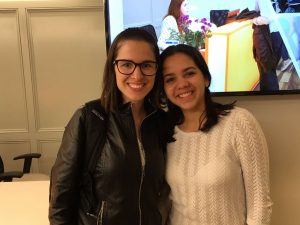 Another student, Valentina from Colombia said "You have to be confident in yourself, and trust yourself. You have to believe you can do it. At first you will be scared because you will be in a place where no one knows each other, so just be yourself and come as you are. People here are friendly, open-minded and they are never going to leave you by yourself. I came here wanting a completely new experience and I got it. I love it!"
Although the idea of coming to a foreign country to learn the language can be intimidating, it also be the most exciting, mind-opening experience of someone's life. When you choose to study at EC Washington English School, you will meet students from around the world who have the same goal as you- to improve their English and experience American life! We hope you will come learn,
grow, and have fun with us soon. It will be an adventure you will never forget!
Comments
comments