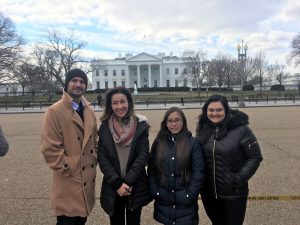 Today we were happy to welcome new students to EC Washington DC, including our first student from Cuba!
Joisel joined Karen from Colombia and Fabia and Priscila from Brazil to make our first group of new students for March. Despite the chilly weather conditions, these students joined staff member Andrew for a walking tour of the White House and National Monument.
Who are our new students?
Andrea studied psychology, loves watching movies and spending time with her dog! She has a friend in Maryland so they will be exploring the DC Metropolitan area together.
Fabia is a piano-playing, gym-frequenting dentist; she will be running the New York half-marathon this coming weekend…. good luck, Fabia!
Joisel loves listening to pop music and he is in DC for a very special reason: Joisel is due to get married this coming Saturday, so his Washington DC experience will be unforgettable for many reasons – we hope EC Washington DC is one of them!
Karen loves spending time with her family including her two sisters.
Our new students this week are all staying for a month or less, but we hope to help them reach their goals during their time here in DC.
Want to join us for a future orientation? Learn more about EC's beautiful English School Washington DC and start your adventure here!
Comments
comments