Each month, we put one of our EC Washington DC staff members under the spotlight and find out more about them. This month is the turn of Andrew Platt, our senior SSC! Andrew helps students with questions about accommodation, social activities, and any front desk inquiries. He is the first point of contact for any student who comes to our center.
Find out a little more about our Student Services Manager, Andrew Platt!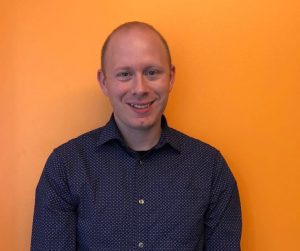 Hello, there! My name is Andrew Platt and I am originally from Fredonia, New York. Fredonia is about two hours south of Niagara Falls! I attended the State University of New York (SUNY) at Fredonia where I received my Bachelor's degree in communications (TV and Digital Film) and my master's degree in Minority Relations. While growing up, my parents participated in the foster care program, which brought other kids into our home for a short period of time. Sometimes, kids from different cultures and backgrounds would be placed with us and this was the first time that I was exposed to cultures different from my own.
During my studies at SUNY Fredonia, I studied abroad for short periods in Italy and England. Other countries that I have traveled to are Canada, Belgium, Argentina, Peru, Uruguay, and Germany. I am hoping to visit Brazil at the end of this year!
I started working at EC Washington, D.C. in July 2018 and I have loved it here ever since. I enjoy exploring the many different areas of the city, learning more through the free Smithsonian museums, and meeting people from all over the world. During my free time, I like to read suspense/thriller novels as well as stay active in healthy on the Stonewall Sports Dodgeball League. One of my favorite things to do is watch any type of movie! I own and have watched over 1,000 movies!
I have been enjoying my time here at EC Washington, D.C. and hope to continue to learn about other cultures and make a difference with the students who study here! If you come to visit our EC Washington I will be happy to help you choose the best program for you to improve your English!
Comments
comments