Our dear student Shion takes over today's blog and talks a bit about her experience here in DC.
Read some of her thoughts below:
I have studied at EC English Washington school for about three months and I had a lot of memorable experiences. I decided to spend time in this school in order to improve my English before I start going to my high school in the US. To be honest, I didn't expect language school is such a great place to learn English so I am really satisfied with my decision and I was glad that I could have a opportunity to study here. Meeting a lot of people who are from various countries gave me a chance to notice how the world is full of interesting things and that also let me realize the importance of learning English. Not only friends, but also I could meet wonderful teachers who take care of us patiently and let us know the benefits and interests of learning a language.
The reason why I studied in the US which is far away from my country, Japan, is because I love watching movies and I strongly want to work with films as a director in the future. The US has one of the biggest film communities in the world, Hollywood is a well known place and that fascinated me. And during my stay in DC, I used my free time very effectively so I could watch more than thirty films, mostly classics. DC has a lot of beautiful libraries which everybody can use for free so I was borrowing lots of DVDs. In addition, I was very lucky that my teacher had tons of information about them; in fact, he recommended me lots of great movies and the best thing was we could share impressions of each film not only by talking, but also by writing reviews.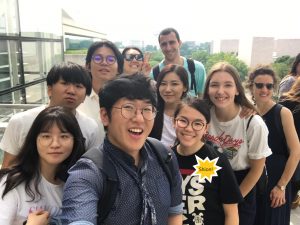 Regarding afternoon classes, I was attending academic English class and Writing class which either of them were optional to take. Academic English class focuses on speaking about the controversial topics which was quite hard for me to understand whole things but they were worth discussing. In Writing class, I have done seven different types of writings such as an essay, a formal email, a proposal, an article and so on; movie review which I mentioned before was also one of them that I learned in the class. It was pretty hard lesson and I needed a lot of effort to complete each of the writing which I had to follow the decided structures. Also, there were a bunch of assignments; however, I can guarantee you that your writing skill will definitely improve if you complete every task which was given by the teacher. I did.
This three months past unbelievably fast and I am sure that my experience in EC will be a very important term of my life when I look back over the past. It is very sad to leave the school but the social media helps a lot to keep in touch with my friends and teachers even though we are in the far distance. And I strongly recommend everybody who is interested in learning English to go to EC language school without any hesitation and make an unforgettable experience. Last of all, I am grateful to all the people who I have met during my study in DC and I hope I can see them again someday.
Comments
comments