Our dear student Jay takes over today's blog and talks a bit not only about her experience here at EC DC but also about her travels along the East Coast. She's been with us for a few months already, but sadly her time here is almost at an end. This is her long slow goodbye.
Read some of her thoughts below: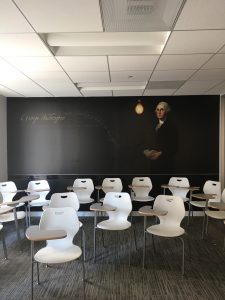 Every student in EC English School in Washington DC can use a week or two weeks' vacation; therefore, in a holiday week of July, I planned to go to Florida using this opportunity. This time I decided to book flights because there were direct buses from the international airport to the Universal in Orlando additionally, for the reason of distances, I got my tickets at affordable prices when I was reserving my seats.
After having fun for three days in Orlando, in a plane heading to the Miami I watched the most beautiful coastline in my life and saw one of the longest coastal roads connected to the very south island of the United States.
I also rented a car to go to see the southern point in the Key West being loved site by Hemingway and experienced some water activities. Can you imagine the only road surrounded by endless sea? In there, I did parasailing, snorkeling, jet-skiing and even sailing although the sun was strong, it couldn't make me stop swimming in the emerald colored ocean.
Back to Washington DC…
…after spending my unforgettable birthday in Miami, I shared some stories with my roommates about activities that I did and places where I visited during my vacation. Easy accessibility to other cities, convenient transportation, relaxing and clean atmosphere, and generous people there is no reason not to choose Washington DC as your second city. Studying hard in weekday and planning a travel in the weekend feels so good not only just because makes you feel using these benefits practically but because it gives you a bigger motivation to study in the future.
Looking back in my life, I noticed every choice I have made in here keeps linking me to the new experiences and feelings that I had never before in my country. I am really happy I am living in this city now and I will cherish this memory throughout my life. I sincerely think EC Washington will yield invaluable memories to all students who go there.
Comments
comments