How long is a course of English in Washington supposed to last? What can you accomplish in 77 weeks? That's almost 18 months! Think about the possibilities… how about learning English to a high level of fluency?
This Friday, we said goodbye to a couple of long-term students who are true examples of an EC Washington success story.
Pornchita, from Thailand, and Abdulmohsen, from Saudi Arabia, started their programs on the same day way back in March 2018. And, in a wonderful coincidence, they both graduate from EC this week.
Some students study with us for one week, some for one month or more, and some even take a year or more out of their everyday lives to come and really perfect their English skills.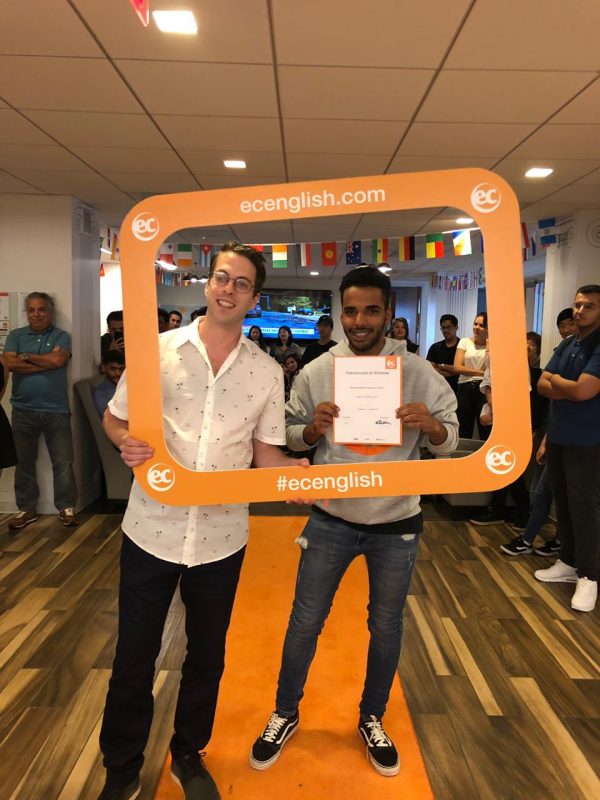 Mohsen and Pornchita have been here for a total of 150 weeks between them! They both started in the Pre-Intermediate level; Mohsen graduates in the Advanced level and will continue his studies at a major American university. Porchita has reached the Upper Intermediate level and may return for more classes in future, or enroll in a Master's Program in DC.
These students leave with incredible, unforgettable memories of their time with us, and they are special students for EC teachers and staff as well. Of course, all of our students get the Orange Carpet treatment and they are all important to us, but these two students have devoted a big chunk of their lives to the EC experience!
I still remember these guys on their first day: sitting quietly, a bit shy, unable to express themselves fully in English. Now, they are confident, expressive, and independent users of the language. They are a true EC success story and we wish these wonderful people all the best in their futures.
Come and start your own adventure with us today! Call 202-695-7353 or email washingtondc@ecenglish.com to find our more.
Comments
comments