What's Going On This Week at EC Washington?
There is always something happening at EC Washington, the premier Washington DC English School for international students.
Every week, we welcome new students to our school – we use "rolling admission" which means new students can join an existing class and start learning immediately.
This Monday, we had another diverse mix of nationalities starting their courses: Brazil, Colombia, Cezchia/Czech Republic, Japan, Spain, Belgium and Russia were all well-represented. Two brothers, Victor and Gustavo, arrive from Brazil while their father is working in DC. Leos, a diplomatic attache from Czechia, is taking private lessons to assist him with his English at work. Masaya is coming from Tokyo to study in an American university in the future, and coincidentally met a former colleague here at the school, as his old friend Yoshihiro is also studying here, purely by chance! What an incredible quirk of fate. We also welcomed Celia, Ryotaro, Lucas, Federico, and Anton. Welcome, guys!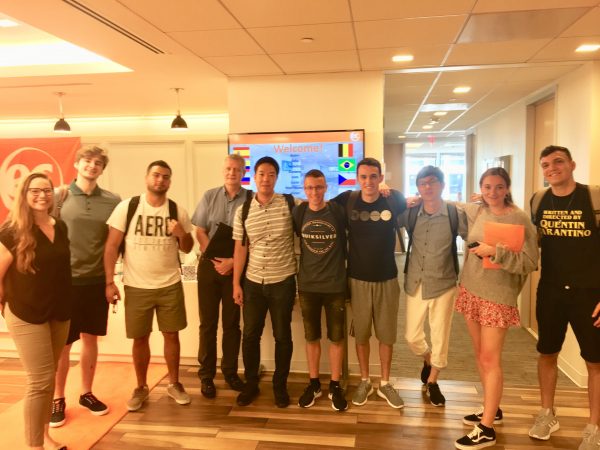 Our new students always feel right at home very quickly, because we have such a wonderfully welcoming student body here. Students go out together for lunch, socialize in our school lounge, and make evening plans together.
Already, our new students have lots of activities to take part in outside of their classes, such as :
Free academic workshops on Tuesday and Thursday each week, with different topics each time
A neighborhood walk through beautiful and historic Georgetown, on Wednesday
Another exciting graduation event (and a little social event to celebrate, I'm sure!) on Friday for students who are finishing their courses
As you can see, there is always something happening at EC Washington and each day gives students a new experience, another way to keep improving their English, exploring this incredible city, and building connections with each other. If you'd like to find out how you can join our incredible learning community, do give us a call at 202-695-7353 or email us at washingtondc@ecenglish.com. We'd love to hear from you and discuss your options for an unforgettable ESL experience!
Comments
comments