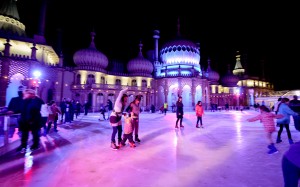 As it's such a lovely sunny day today, why not get out and make the most of it…try ice skating at the Royal Pavilion ice rink. This fun and festive experience is not to be missed and is perfect in the run-up to Christmas and will have you feeling merry in no time.
The ice rink is 800 square feet and has ice skating space for 250 people per session. There is even a beginners' students area with penguin skate aids, where you can practice if you are feeling nervous. They have skates in all sizes, from 'just walking' to adult so everyone can join in the festive fun.
Even if you don't fancy ice skating, there is a rink-side Bar & Kitchen, where you can enjoy a delicious cup of hot chocolate with marshmallow or glass of mulled wine and warming snacks. From here, you can watch other skaters or your friends testing their abilities on the ice. Try not to laugh if they fall over though.
The ice skating costs from £10 for adults for one-hour of skating time and concessions for students are available. It's open every day from 10am to 10.15pm but they recommend that you buy your tickets in advance, to avoid disappointment.
You can buy your tickets now from www.ticketmaster.co.uk/royal-pavilion-ice-rink or call 0844 8472352 or for group bookings of ten or more call 0844 8471512. You can find out more information from www.royalpavilionicerink.co.uk .
So don't miss out EC Brighton students! Enjoy and happy skating!
Comments
comments