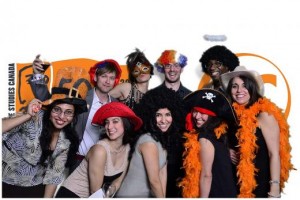 EC celebrates it's first 3 Canadian schools!
LSC celebrated its 50th year in Canada and its transformation into EC with live music, fine food and a popular photo-booth hosted at the newly refurbished EC Toronto English school.
Agents, friends and EC staff from across the world celebrated together on April 18, 2012. Nearly 200 people attended the event, including EC's Executive Chairman Andrew Mangion and CEO Mike Xuereb.
The event offered guests the opportunity to see the newly renovated Toronto school with its spectacular modern furniture, glass walls as well as upgraded facilities and technology. Students will love studying at the new-look school!
The evening reception featured food, drink and a live band that spotlighted music from the 60's in honour of LSC's birth in 1962. The night's biggest hit was a large photo-booth where guests were invited to have their pictures taken, and if brave enough, to dress up in costumes and pose for the camera.
"The party was a big success as guests and staff mingled over a delicious array of great food and enjoyed the sounds of a live band. We all had a lot of fun and it was great to be able to showcase our new facilities of EC Toronto to so many of our active partners," says Gayle Forler, EC Sales Director for Canada.
EC has invested in facilities in all 15 of its locations with comprehensive refurbishments and an upgrade of resources. EC Toronto, EC Vancouver and EC Montreal have just undergone complete transformations including new computers and the installation of interactive white boards in all classrooms.
The three schools now match the high standard that students from EC. And like all EC schools, our three Canadian centres are in wonderful locations, always in the best part of the city. They are exactly where our students want them to be.
Contact us for more information about taking an English course in Canada.
Comments
comments