Ingmar Albig, who was our Centre Director at EC Bristol, accepted to be the New Centre Director of EC Vancouver. Friday was Ingmar's last day at EC Bristol and unfortunately we had to say goodbye. His departure was sad and the week went strangely away.
We congratulate him with all our hearts, we are really happy for him and we wish him all the best. We hope he will enjoy the new city, meeting new people and the new challenges in his new school.
Ingmar should be proud of his career paths. We know already that EC Vancouver are eager to welcome Ingmar and his cakes!
Before to taking up the position of Centre Director at EC Vancouver, Ingmar wrote these few lines:
"I was 19, unbelievably that's 20 years ago, when I started working in the EFL industry. I thought it was a great idea to earn some money during my summer break from university and at the same time to improve my English. So, I ended up working for FEE Sprachreisen, a German company which used to organise EFL junior camps in various UK destinations, for about 9 years during the holidays. My base was Brighton and I spent most of my office time at House of English which was later bought by EC as their first school outside Malta. In those years I worked as an Airport Representative, Hotel Stay Coordinator, Activity Leader, Head Activity Leader, Residence Supervisor, Liaison Person (to date I am not sure what it means to be honest), and general dogsbody! It was a fantastic experience which made me decide that my work future would have to be in this industry, so I happily accepted EC's job offer to become EC Brighton's Customer Relations Manager in January 2005. I went on to be the Operations Manager at EC Brighton in 2007. My professional goal had become to run my own school one day and I was very excited to get the opportunity in 2010 when I was offered the position as Centre Director here at EC Bristol. It was a big step and a great challenge, especially as it was a start-up school. After two and half years here in this wonderful city I felt ready to take on another challenge and I cannot describe how pleased I am that EC has again put their trust in me to take on the position of Centre Director in Vancouver.
I suppose you may have guessed by now that I am originally from Germany, that I am 39 years old and that I really love what I do. Obviously, I also have a life outside EC. My passion here is my almost 2 year old daughter Andrea and my wife Ana and the time we spend together travelling, baking cakes and most importantly eating them!"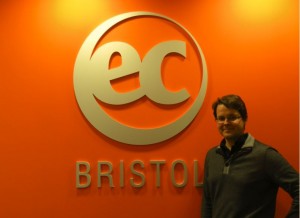 Before his departure, the EC Bristol Team wrote him few warm lines…
Fabiola, Accommodation Officer: 'Lieber Ingmar, a big thank you for being such a great person! I wish you the best in your new life! No need to say you will be missed tantissimo…All the best x'
Dan, Director of Studies: 'Goodbye for now, I have really had a very nice time working with you, maybe one day we'll complete the set of 3. Have fun'
Ana, School Administrator: 'Muchas gracias por la oportunidad que me has dado. Trabajar contigo ha sido un gran placer y una gran oportunidad de aprender. Gracias por ser tan generoso y comportir tu conocimientos y por hacerme sentir parte del equipo. Ingmar no eres solo un gran manager, sino una gran persona, por eso se que esta nueva aventura en Vancouver te va a traer muy buenos momentos, espero que tan buenos como los que ha tenido en Bristol 🙂 Te deseo todo lo mejor para ti, Ana y Andrea <3 Espero trabajar contigo en un futuro…Un abrazo muy muy fuerte :)'
Stella, Customer Service Officer: 'Ingmar je te remercie enormement pour l'immense opportunite que tu m'as offert. Thanks a lot for trusting and believing in me. Thanks for your kindness and friendliness! I wish you all the best in your NEW ADVENTURE!!! It will be awesome, I'm sure. Please don't forget one word: Chocolatine 😉 Gros Gros Bisous Vancouver is gonna be legen…wait for it…dary! Lots of kisses to Ana and Andrea! x'
and many more messages have been written.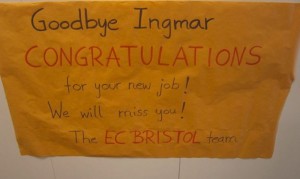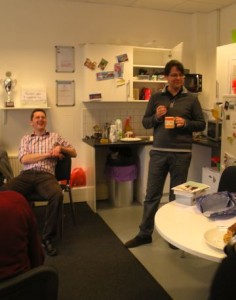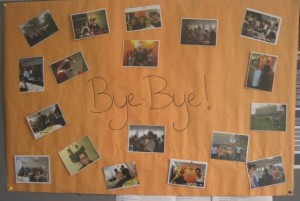 In the near future, we look forward to organising meetings between our two schools, exchanging ideas and keeping in touch.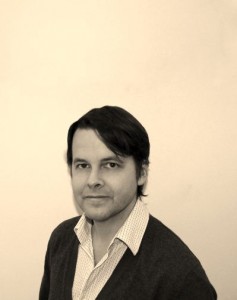 CONGRATULATIONS INGMAR!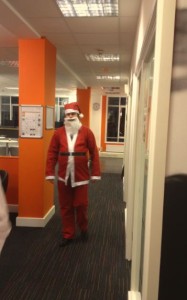 As we say in french: Ce n'est qu'un aurevoir!
Comments
comments