Dominic Lischer, Swiss student currently following the Cambridge Exam Preparation for the CAE, would like to share his testimonial about EC Bristol.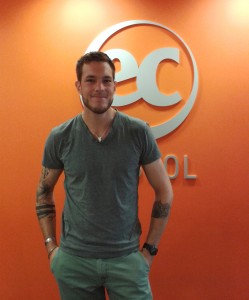 Why did you choose this destination?
I closed my eyes and threw a dart on a map. It turned out that I struck Bristol.
What did you learn? How much did you improve?
The CAE is quite challenging… In the first three weeks I have been learning a lot of new vocabulary and I certainly wrestled with the grammar.
 What was your favourite EC activity? Why?
I have joined the graffiti-tour through Bristol. We have been impressed how street artists were able to turn gloomy streets into colourful places.
What did you like most about the school/lessons?
I like the way they teach. That means you are responsible for your own progress. With the help of feedback from students they provide the class with what they need most.
What did you like most about your accommodation?
I am glad to be experiencing the homestay with a young family. It is very uncomplicated to communicate and I really appreciate their family lifestyle.
Would you recommend EC to a friend?
Absolutely! I will recommend EC. It is not just the class that matters but it is the big picture with all these events and journeys and people from all over the world.
Where did your new friends come from?
My new mates come from Norway, Germany, Columbia and Switzerland.
Comments
comments