EC Montreal said farewell to 2012 – it has been an amazing year for us!  We welcomed students from all over the globe!  Just this past December, we welcomed students from 34 different countries!!  Our priority was to make students feel great about their decision in choosing Montreal as a destination to study English or French and we believe we succeeded!!  Our student evaluations demonstrate that students would recommend both EC Montreal and Montreal as a destination to their friends!  We are extremely proud of our city and are delighted to view these results!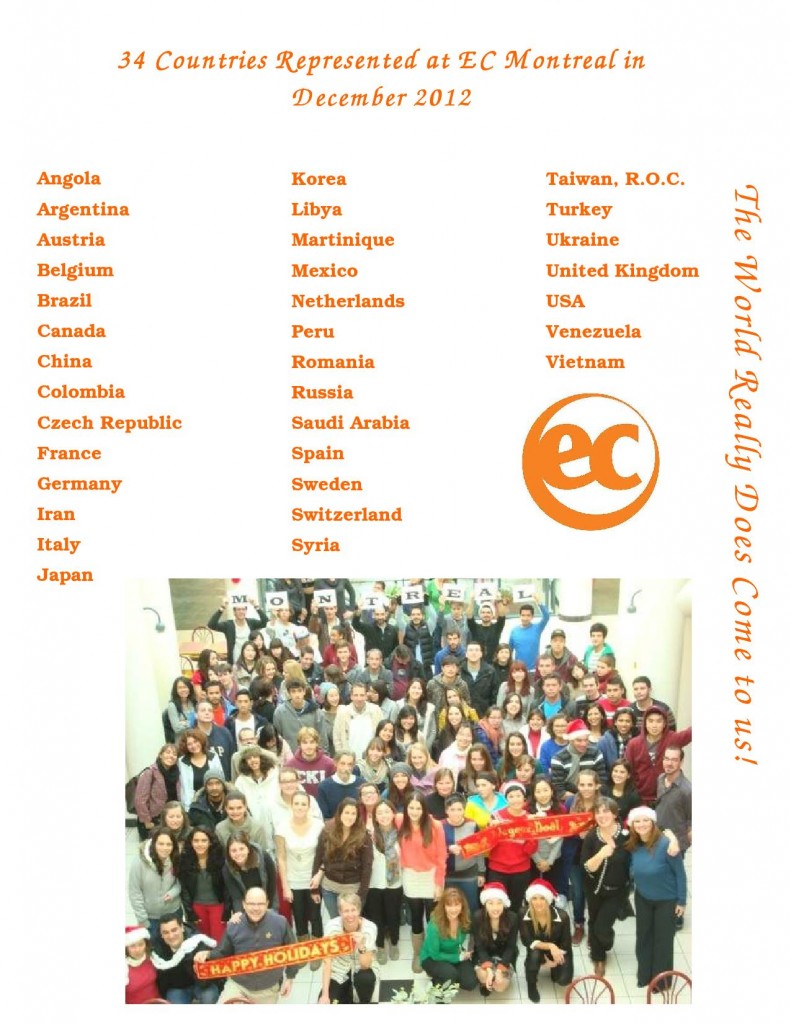 Montreal is an ideal location to visit!  Why study in Montreal?  Below are 10 good reasons:
1.Montreal is the 2nd largest Canadian city (3.6 million people) and the largest bilingual (English and French) city in the world
2.Cost of Living – Montréal is one of the largest cities in the world that offers the most affordable prices according to Prices and Earnings: A Comparison of Purchasing Power Around the Globe, a study conducted by the Union des Banques Suisses (2008)
3.Clean & Safe
4.Efficient Transit System- Montreal won top awards in 2010 for having the best public transportation system in North America
5.Most Cosmopolitan City in North America- Montreal ranked by British firm QS as best student city in Canada
6.Nightlife & On-going Festivals
7.Food Lovers' Paradise with more than 6000 restaurants on the island!
8.Art Lovers' Paradise
9.Nature Lovers' Paradise approximately 1000 parks on the island:  17 large parks with an area of nearly 2,000 hectares; 10 Eco-territories of 3000 hectares; 350 km of bike paths
10.Fashion Lovers' Paradise
We look forward to weloming you to EC Montreal in 2013!!
Comments
comments