The IELTS exam has become a very important exam in Canada as well as in the other countries of the Commonwealth.  Here in Canada, many immigrants and international students must take this test in order to settle down permanently or to register for an anglophone university. Last Saturday one of our EC Montreal employees, Katrin, was one of these candidates!  Read below what she has to say about her personal experience taking the IELTS exam.  You will find many useful tips!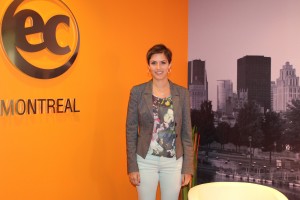 "I have been trying to prepare myself for the IELTS test during the past few months. I started with buying IELTS exam preparation books with main focus on the areas that I needed to improve, Vocabulary and Collocations. There exists a large range of test preparation books for the IELTS exam. I personally recommend those edited  by the Cambridge University Press, or Oxford University Press. The preparation books exist for different levels, which allows you to buy a study book adequate for your level or for the level that you want to reach.
It is also very useful to get familiar with the testing method. Therefore, I started browsing on the IELTS webpage (http://www.ielts.org/). Besides finding information on the testing procedure, you will find test samples and tests that you can take online. Knowing the structure of the test itself might help in a certain way to avoid mistakes, as you won't be surprised of what expects you during the test. The IELTS test will measure your English competences on a scale from 1 to 9, from non-user to expert user.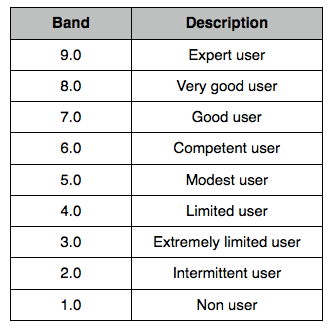 Basically, one can distinguish between the General Test module, often needed for immigration purposes, and the Academic Test module, for which most Anglophone universities ask if your mother tongue is not English. Immigration selection in Canada is based on a point system. Depending on your test score, you will get a different number of points. Of course, the higher your score is, the more points you get. Universities usually ask for a minimum of 6.5 or 7 point out of 9 points in order to be able to register for a program.
Some people find the Academic module more difficult than the General module. That might be possible in some way due to the nature of the reading exercise and the writing tasks. The General module would focus more on work or context related topics whereas the Academic module deals with more abstract and intellectual themes.
I personally don't find too many differences between the two modules which consist each of four parts: First there is the Listening Comprehension, which takes around 30 minutes. You will only hear the recording once. For the Reading comprehension you will have 60 minutes, and you will read 5-6 texts of different lengths and answer 40 questions related to it. The question type can be variable, so you will find multiple choice, multiple matching, short answer questions, etc. This is followed by the Writing exercise. You will need to write two texts, one of 150 words and another one of 250 words for which you have only 60 minutes time. Your speaking exam will be scheduled sometime in the afternoon of the test day, between 1pm and 7pm, and only takes between 10 and 13 minutes. You will be asked to answer some personal questions, and then need to talk two minutes continuously about some specific topic that will be given to you in the test situation. This is followed by a short discussion between you and the examiner on this same topic.
All in all, it was a good experience for me to have taken this exam. If anybody has questions regarding the exam process, I will be happy to help out!"
Thank you, Katrin, for the inside scoop!  The best advise we can give you, however, is to sign up for EC Montreal's IELTS preparation course!  Students who participate in this class get fantastic IELTS test score results!
Comments
comments