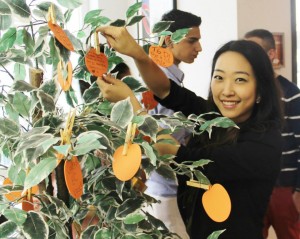 Monday, October 13 is Canadian Thanksgiving!  It may not be as grand as the American Thanksgiving but it is very much celebrated!
EC Montreal will be closed on Monday and we hope you will have a chance to participate in Thanksgiving festivities with your homestay families or with your new friends at EC.
Turkey is what is traditionally served.  We also serve vegetables that are in season during the fall.  You will often see sweet potatoes, squash, green beans and cranberries at the dinner table.
It is also a time of year to be thankful for everything we have in our lives.  At the dinner table, many family members take turns to express to everyone what they are most grateful for.
At EC Montreal, we will hold our annual Tree of Gratitude activity.  Students will have the opportunity to write down what they are most happy with in their lives and display it on our tree.  Many say that when you start being grateful for the small things you have in  your life, the universe will reward you and only send positivity your way!
If you are not into celebrating Thanksgiving, EC Montreal will be holding a 3-day, 2-night excursion to Toronto / Niagara Falls.  Since we will be closed on Monday, you can use this day off to visit Canada's largest city and one of the wonders of the world!
We hope you will enjoy your Canadian Thanksgiving with EC Montreal!
Comments
comments