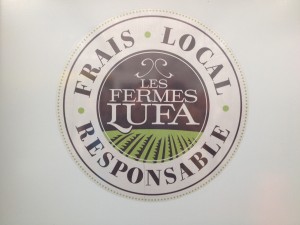 Lufa farm is the first rooftop farm in the world and yes, it all began right here in Montreal!  This very impressive business began by four ambitious, passionate and innovative individuals.  Their rooftop farm is heated directly from the sun from the glass panels.  When it's a dark and rainy day, they use lamps.  They add nutrients to their water to ensure all their plants are healthy and bear fruit.  The entire operation is grown without any pesticides, fungicides or herbicides.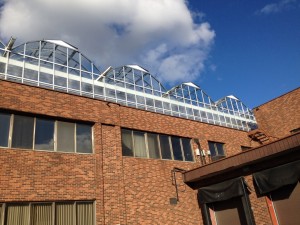 This organic farm supplies food baskets to many business and private homes around Montreal.  When they first opened they had 200 subscribers.  Now, only a few years later, they have close to 5000!  More and more people want to eat healthy and only cook with organic food.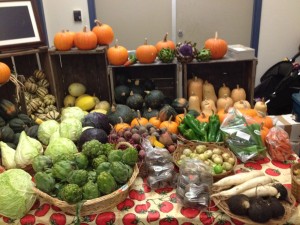 The open house today was absolutely wonderful!  It is such an inspiring business!  They genuinely care about the environment and about their consumers.  Their operation is completely paperless and they control their carbon footprint very carefully.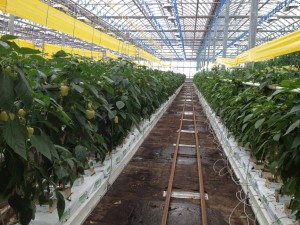 Many asked the question – why on a roof?
The answer is that good farm land is disappearing fast. It's either being lost to parking lots and commercial development or it's being slowly poisoned by overuse of synthetic pesticides or herbicides. To make matters worse, good forests are being lost in an effort to make more farm land. That's a lose-lose proposition.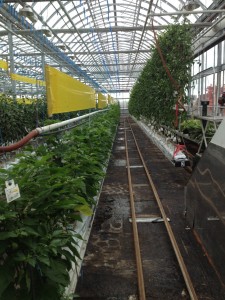 We have more mouths to feed and less land to do it with. The world population continues to grow exponentially even as good farmland is rapidly disappearing. It simultaneously gives urban residents access to local produce that they would otherwise have imported from dozens, hundreds, or even thousands of miles away. The prototype 31,000 square foot farm feeds approximately 2000 people and provides them with an excellent selection of fresh and nutritious produce. The future greenhouses will feed more. The Lufa Farms slogan is "Our vision is a city of rooftop farms".  They have set out to prove that that vision both possible and economically viable.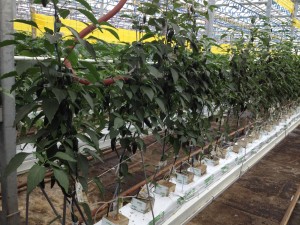 Many also asked why do they conserve and recirculate water?
Their answer is that good water is increasingly rare. They don't want to do anything to make it rarer. That's why the farm captures rain water and recirculates irrigation water.  They do this to avoid placing additional demand on the city water supply.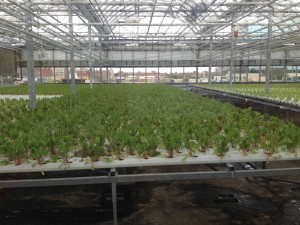 They use hydroponic cultivation methods, which allow them to grow using between 50% and 90% less water than a comparable farm not practicing recirculation. Since they recirculate 100% of irrigation water, their greenhouses don't load the municipal drainage system and the plant nutrients don't end up in lakes and rivers.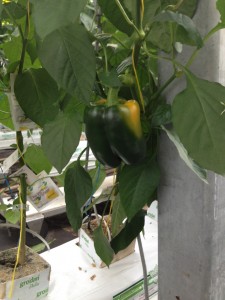 The first greenhouse in Montreal also creates a large buffer system around the greenhouse. This slows the rate at which uncollected rainwater flows into city sewers.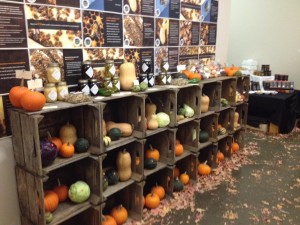 Anybody can be a subscriber and buy directly from the farm.  You simply have to sign up – which is free and you get a menu of fresh ingredients to choose from every week.  If you don't choose, they automatically prepare a basket with the fruits and vegetables that are in season.  The basic basket is $30 and the minimum purchase is $15.
Lufa holds these open house events every 6 weeks, however, they can accommodate private tours upon request.
At EC Montreal, we plan to include a tour of Lufa Farm as part of our English or French plus Gastronomy programme.  In addition to the food tours, culinary lessons and pastry making, students will have a chance to visit the first rooftop farm created in the world.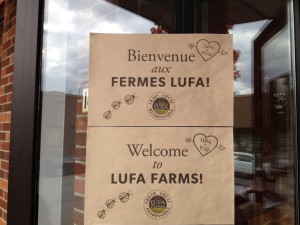 Every visitor leaves the farm with a special gift.  Today's gift included a bag filled with radishes and collard greens.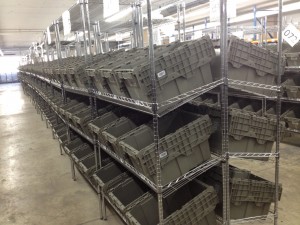 Join us at EC Montreal and participate in our Gastronomy programme!  Not only will you learn new words in English in Montreal but you will also get a healthy taste of Montreal!
Lufa Farm is located at 1400 Antonio-Barbeau in Ahuntsic.
Comments
comments