EC Montreal offers great weekly activities and excursion trips to our students with very reasonable prices.  I had the opportunity to join EC weekend Tour to Toronto & Niagara Falls trip a few weeks ago and got to see what our students experience myself!!  Two words to describe this trip….Sooooo Romantic!!!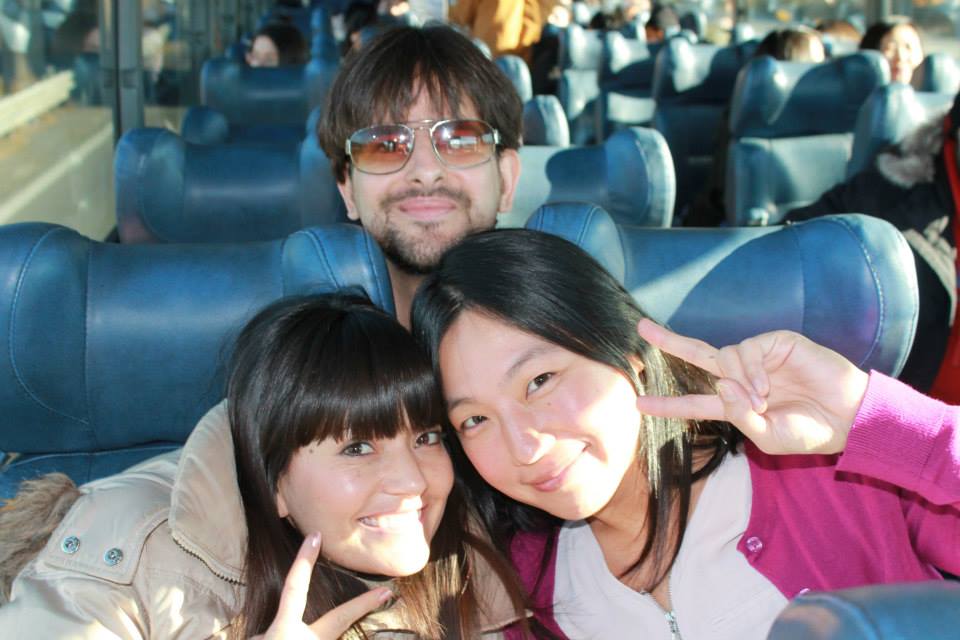 We left Montreal early morning on Saturday with the bus filled with fun crowd. EC Montreal teacher Maria-Elena & Graeme, Rafael from the office joined us too, which made the trip even more special.  Marcus, the awesome tour-guide / multilingual speaker / simply a romantic guy lol who was very generous, attentive, efficient and accommodating made sure everyone was having a great time every second of it.
The bus ride was long, but we were singing, discussing about our lives, practicing both English and French, watching movie and doing karaoke, so it rather felt fast. We had a coffee stop and lunch stop at nice cafeteria where we could stretch our legs and grab good food.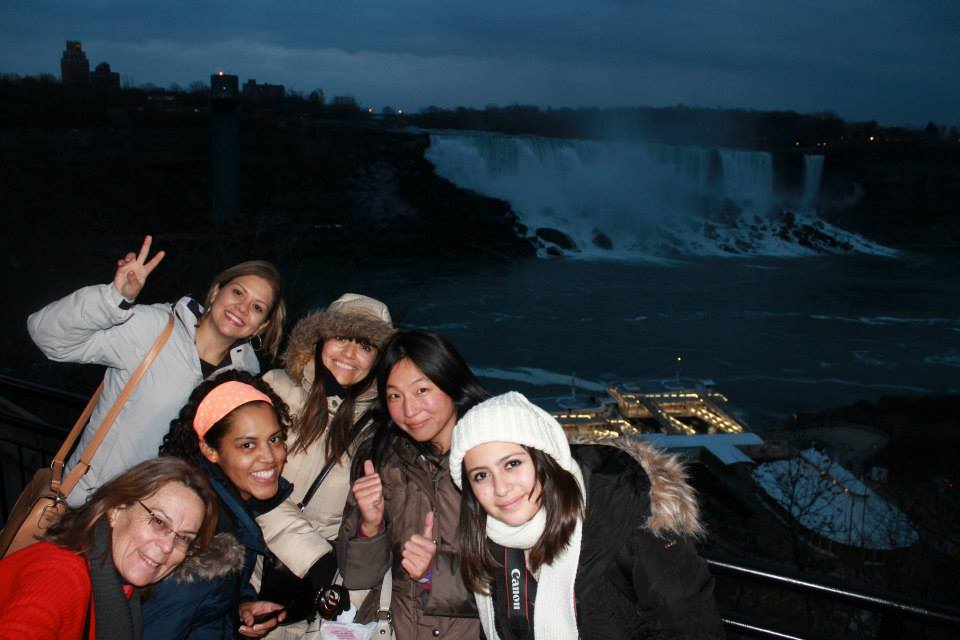 Finally we arrived in Niagara Falls, we caught the very last boat ride of 2014 to see the Falls close by. We all got matching ponchos and went on the boat. It was not my first time to be on the boat ride or to see the Falls, but honestly I was impressed all over again with how amazingly beautiful Niagara Falls was!!  After the boat ride and a bit of souvenir shopping, Marcus took us to the Table Rock to see the best view of Canadian Niagara Falls.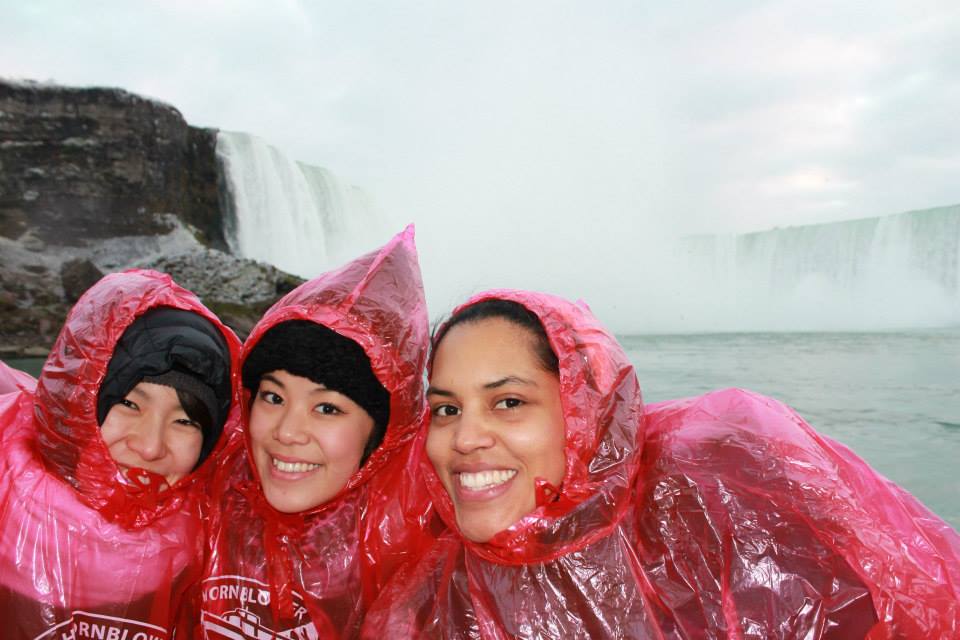 Then Rafael, EC student counsellor and a great colleague of mine, had a surprise in store!  He took out a beautiful engagement ring from his pocket and proposed to his girlfriend Andreia on one knee!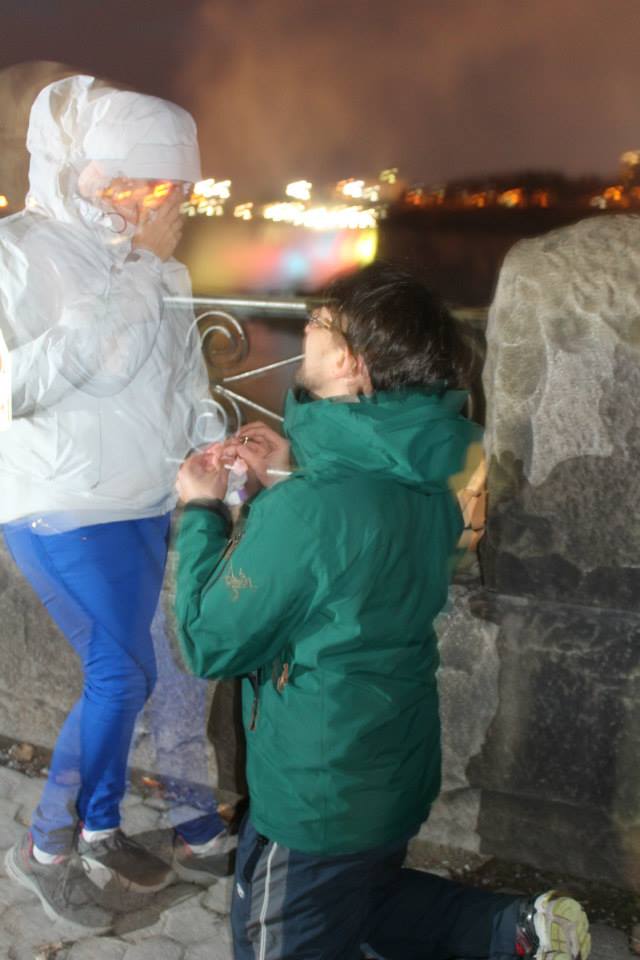 It was sooooo romantic! With the view of the waterfall in the back, happy couple in love, there was nothing more romantic that I could think of!  Congratulations Rafael & Andreia!!!
We went to the hotel, and checked in. The room was pretty nice with the view of the river.  Then we headed to an All You Can Eat Pizza Party!!! As we were walking to the Clifton Hill, which is a mini Las Vegas of Ontario, we happened to catch Fireworks in the sky…it was breathtakingly beautiful.  We ate all kinds of pizza, Caesar salad and had a fountain of soft drinks for only $15 (tax tip included), which was awesome!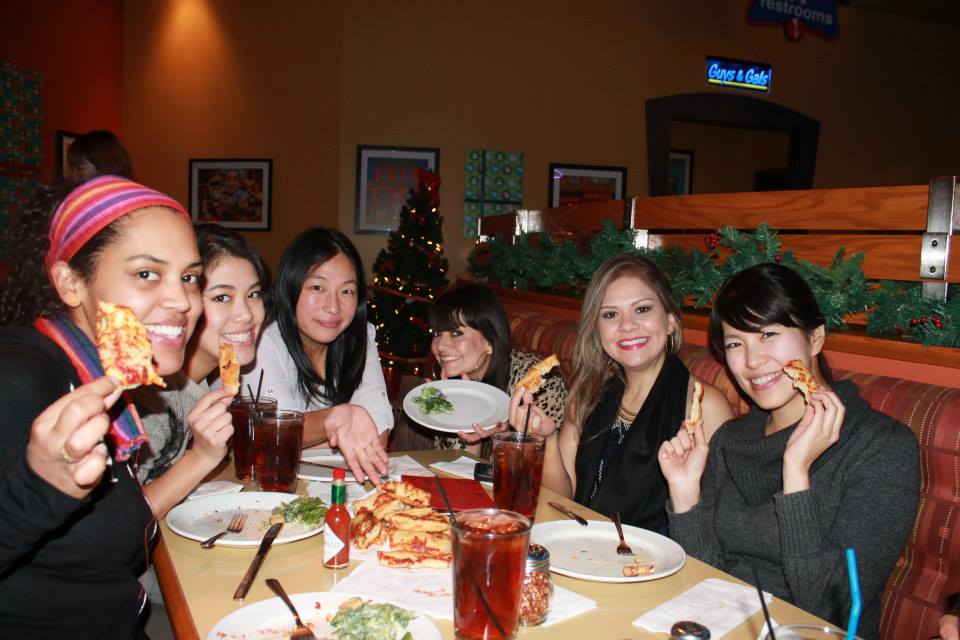 After dinner, we all had free time, some went to Haunted House (don't ask me why but there are 4 haunted houses in Niagara Falls!), some went to see the Falls again, others went to Ferris Wheel, and where did I go??? Hard Rock Cafe for yummy dessert!!!   Ended the day with happy tummy, thanks to warm Brownie and melting ice cream.
Even though I ate all-you-can-eat pizza and big brownie for dessert.. I woke up hungry!  Then what was waiting for us? Breakfast Buffet! More surprisingly it was a full American Breakfast with eggs, pancakes, French Toast, sausages, bacons and even some dessert…ok I filled up again. It was a delicious breakfast!
All packed up, full of energy with happy tummy, we headed for Toronto, after saying one more good bye to the majestic Niagara Falls!!!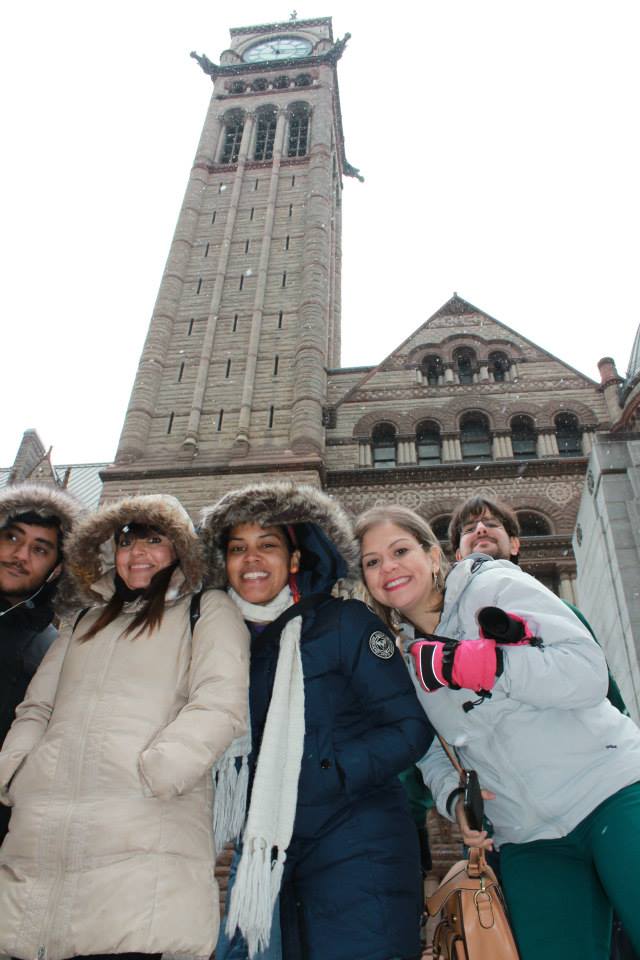 Once we arrived at City Hall of Toronto, we all had some free time.  Some of us went to CN Tower, some went to new Aquarium, others went shopping at Eaton Centre (ahem I was one of them), Kensington Market, Chinatown, there were too many places we wanted to visit, but instead we decided to stand outside in the crowd and wait for ….. Santa Clause!
There was an Annual Santa Clause Parade, which happened to be right where we got off the bus at the City Hall of Toronto.
The parade was so much fun! The floats were so big and entertaining that I got excited watching them like a little child. Unfortunately we had to hit the road before Santa's appearance, but all in all it was one of the best parades I had witnessed.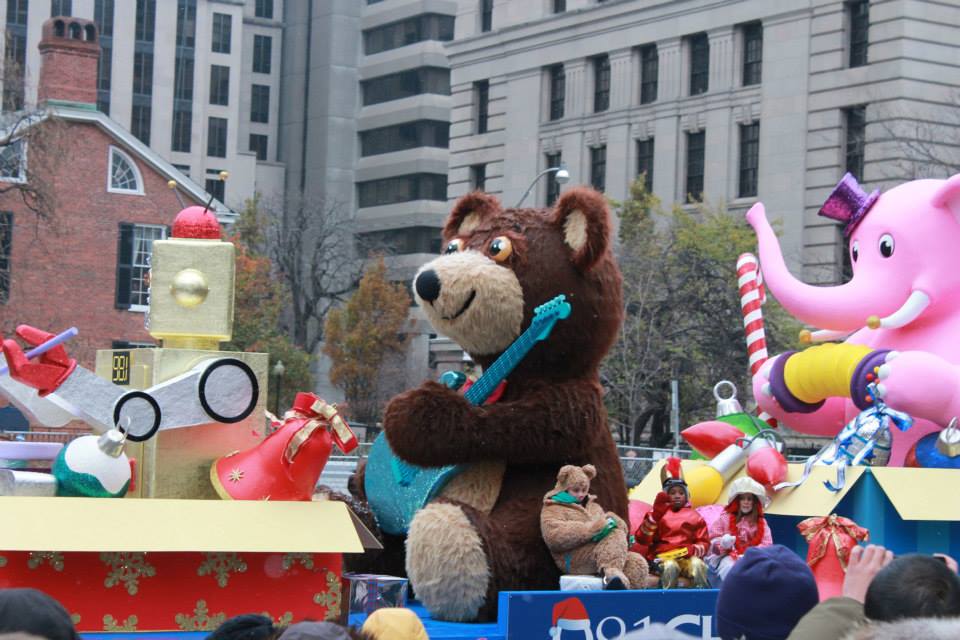 To sum up, we were so lucky to catch the last boat ride of the year at Niagara Falls, Fireworks at night, the first evening of Niagara Christmas illumination, Annual Santa Parade in Toronto…so much happened in just two days…two amazing days!!!
EC excursion trips with IKO Tours are highly recommended!  Come join our English school in Montreal and share this amazing time with your EC family!!
Yuki Goda
Comments
comments