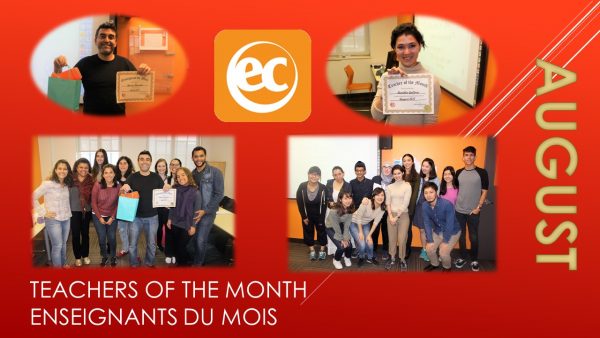 EC Montreal surprised its English and French teachers of the month today.  Mariella and Yasser were voted by our students for the best teachers in August.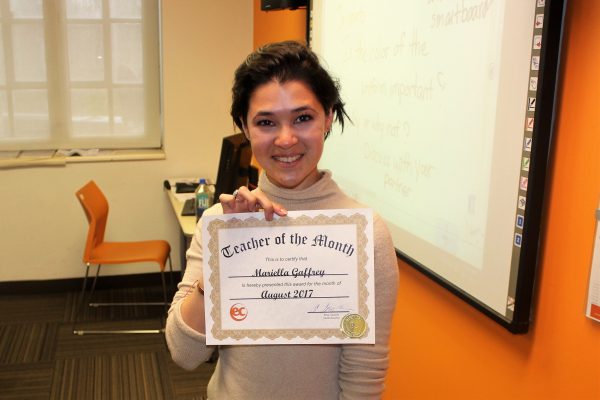 We presented Mariella with a special certificate and gift in her classroom.  She was so overcome with emotion that she began to cry!  It was really quite special.  Her students applauded and were so happy for her.  They proudly posed for a picture with the winning teacher!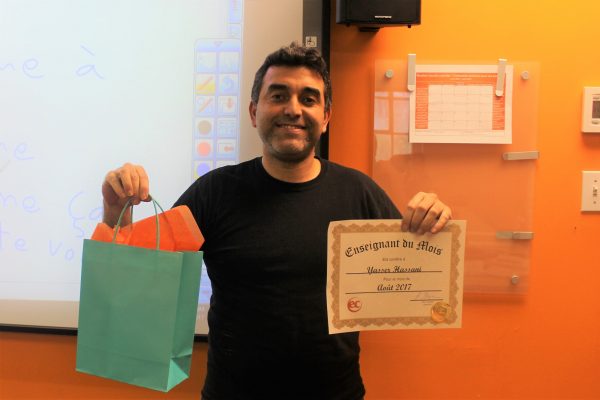 Next, we made our way over to Yasser's classroom.  The students were listening to a very upbeat French song as part of their listening activity.  We waited for the song to end before surprising Yasser.  He was so happy that he gave our centre director, Elisa, a big hug!  All the students applauded with great enthusiasm!  They were genuinely ecstatic about his win!  We took a group photo of the class and everyone cheered!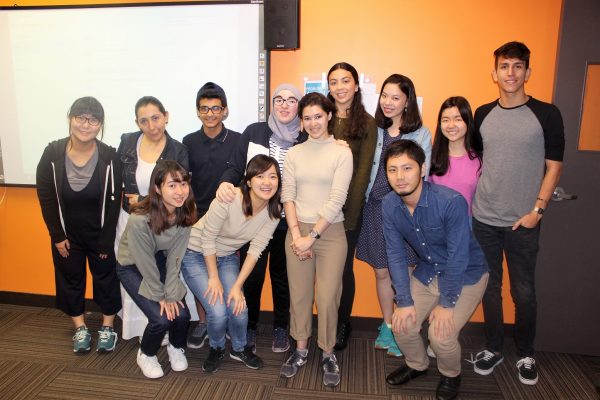 Thank you to all the students who voted and for all the wonderful comments.  We are delighted to share them with all of you: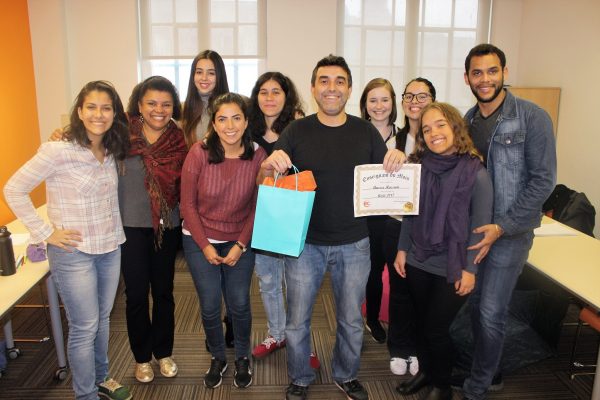 Super focused in making us learn.
Best way to teach.
Best teacher I've ever had.
Nice classes.
Nice and friendly teacher.
Good teacher, nice class.
Friendly, explains well.  I love him.
His class his fun!!
The best jokes!
Really dedicated teacher.
Best jokes.
Fun, strict, always pays attention and is a good listener.
Cheerful.
Elle est attentive et souriante!
Elle est très compétente dynamique et inspire me a lot!
He is patient and helpful.
She is nice.
I like him.  He explains until I understand.
He is the best teacher.
He is funny.
He teaches very well, easy to comprehend.
Has a lot of patience with the new students.
She makes her classes very interesting and captivating.
Lessons with her are funny and full of activities.
He is nice.
Great class.
He's very kind.  He's helping me to improve my English as with the others he does.
He seems to be serious but he is really funny and a very nice guy.
He's cool.
Parce qu'elle est très gentille est un bon professeur.
Funny.
She teaches so well.
He is kind and a great teacher!
He is always very attentive and explains very well.
A lot of knowledge, engaged, motivated.  A very special teacher.
C'est une bonne professor.
Perfect!
She teaches very well and she's nice with the students.
She's very happy and grateful.
Elle est très dynamique et vivre.  J'ai aimé étudie dans sa classe.
She cares about everyone in the class.
Best teacher!
She is always happy, has a talent to explain difficult things and is able to make school fun.
Elle m'enseigne d'une façon très intéressante.
She's kind and dynamic.
She is like a mother with us.
Her classes are always funny and I learned a lot of new things.
She is so kind and has a lot of passion.
So nice!
She's patient and kind!
Très bon professeur.
Formidable!
He is really passionate about what he does.  He is really nice.
He is a really good teacher.  Well organized and nice.
Friendly, good teaching methods.
J'aime son sourire!
Explains well and is friendly.
Il est très drôle et gentil.
Sa manière d'explique des sujets est excellent.
She is the best teacher.  I like her.
She's very kind and she gives us a lot of support to understand everything.
She is very intelligent.
She is excellent.
He makes learning fun!  He makes the class very interesting, dynamic and is super organized!
I like her because she is funny and friendly.
Good teacher.
He's a dynamic teacher and he proposes different ideas.
He knows how to teach and because he respects any kind of differences!
Good attitude in every class!
She is my second aunt in Montreal.
Join us to learn English or French in Montreal!
Comments
comments