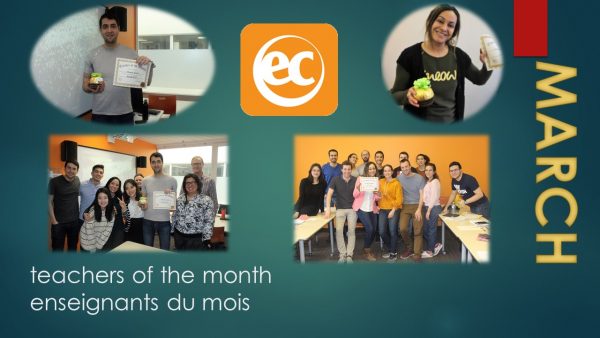 Today we surprised our March teachers of the month in class.  Every month our students have a chance to vote for their favorite teacher.  It is a simple ballot with only two questions:  Name your favorite teacher?  and the reason?  This second questions is super important as we have the opportunity to collect so much wonderful feedback from our students about their teachers.  We take the time to type up all the comments and proudly display them in the teacher's room.  We love sharing this feedback with our teachers to continue to motivate them, to show our appreciation to them and to demonstrate how very much they are loved by their students!  It simply creates such a positive atmosphere at the centre!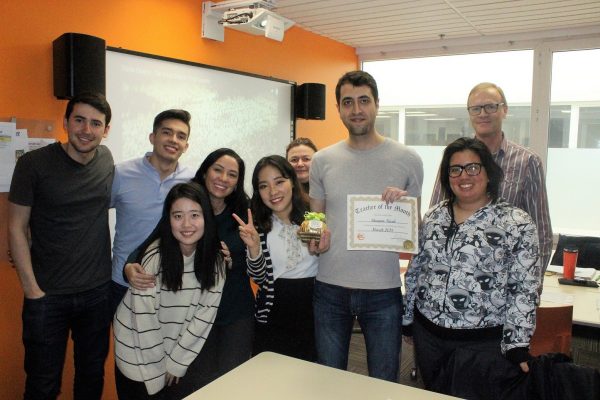 This month, Shayan and Essadia received the most votes!  We first surprised Shayan in class.  Today is also his Birthday, so in addition to presenting  him with his teacher of the month certificate and gift, we brought him a cake to share with this students!  We all sang "Happy Birthday" and his students cheered for their favorite teacher!  They all posed very proudly in the picture.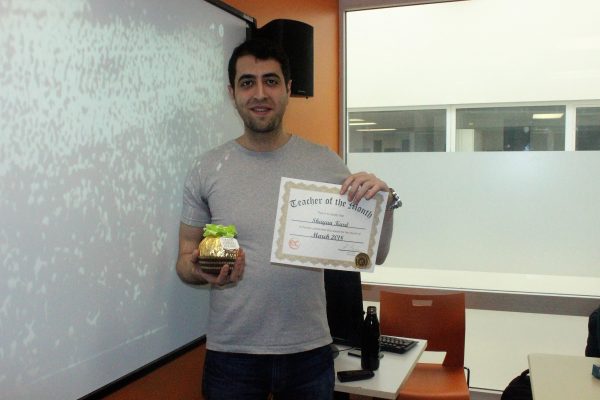 Next, we surprised Essadia with her certificate and gift.  Essadia is our most senior teacher and still holds the record for the most teacher of the month wins!  Her students absolutely adore her.  She is dynamic, enthusiastic and passionate in the classroom!
We want to thank all our students for taking the time to vote and for leaving such wonderful comments about their teachers.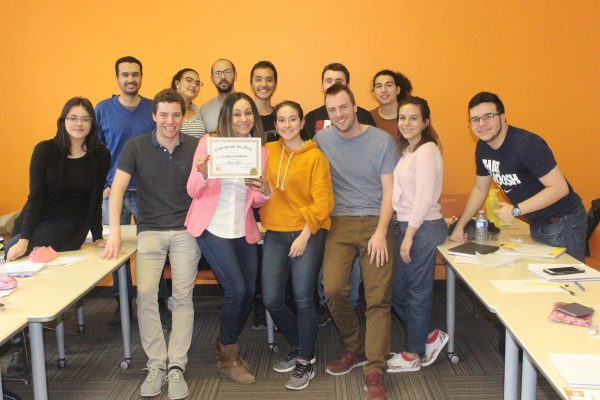 We are delighted to share them all with you:
She is very, very, very good!
He is the best!
He is so fun!
Good classes.
She's so nice!
Her classes are very dynamic!
He is funny.
He is good!
He cares about the students learning process.
Good!
Les sessions sont toujours activités utiles et pas de tout ennuyantes.
She is the best!
Best class at EC!
Il est très didactique est très spécial!
Elle est magnifique.
La meilleure!
We learn a lot with him.
Best classes.
Good teacher, learning a lot and fun.
Best teacher!
Elle est fantastique!
Interesting classes.
Really good and fun classes.
She is my best teacher.
Her class is very useful!
She makes me laugh.
I believe I have improved with his classes.
He is strict but good and organized.
Join our EC Montreal English language school!
Comments
comments