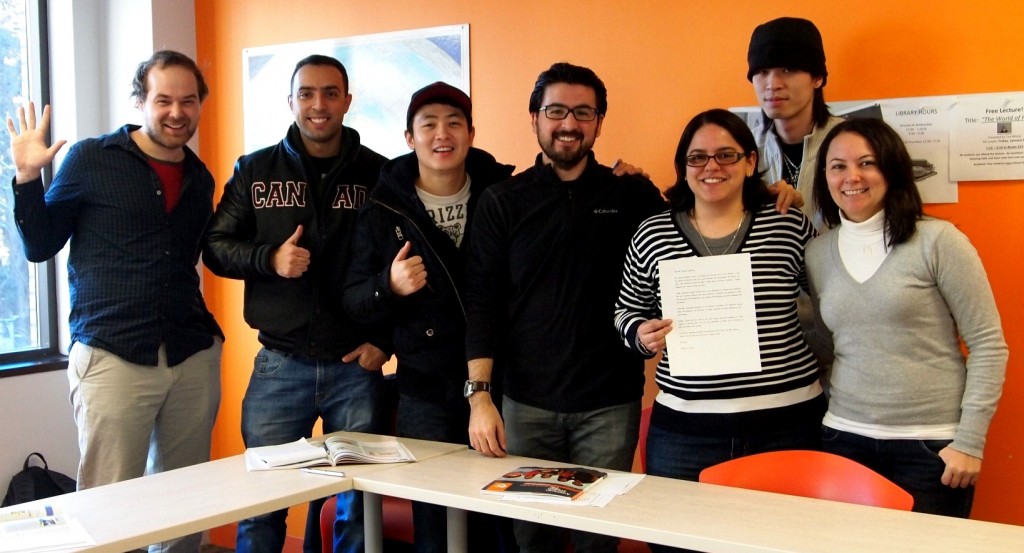 Peter's High Intermediate class read an article about teachers in the US wanting to take guns to school as protection. After some discussion, they wrote their opinions. Here is what Miguel and Taiana wrote.
Although Miguel and Taiana have already finished their studies at EC Toronto, their classmates are sending them a greeting – hello, Miguel and Taiana, we miss you!
Dear Mr. Gerald Valentino,
My name is Miguel Licona, I'm writing from Canada but I'm from Mexico. I read the article of 'teachers sign up for guns training' and according to the article, you claim that teachers should be able to bring guns to school. However, I totally disagree and I want to show you why.
Firstly, teachers mustn't bring a gun to the classroom to protect their students. We can't combat violence with more violence. If teachers are allowed to bring and use guns in the classroom, the violence will increase and more tragedies will be happen.
Secondly, protecting students is not teacher's business. The teachers should teach the students, not kill them. It's their business to teach students to be a good citizen.
Finally, I think that you want to get more money using this tragedy as a good reason for buying guns. You are only interested in selling guns. Actually you don't care about the children.
To sum up, students shouldn't be protected only by hope, but also dreams, peace, love. So that we could live in a better world.
Sincerely,
Miguel & Taiana
Comments
comments