Christmas is coming. It is a wonderful and amazing celebration. Christmas is always full of miracles, magic and charm. It is almost impossible to imagine someone who doesn't like Christmas. Many people gather together with their family and friends and bring cute Christmas gifts for each other. They share their good wishes and have a lot of fun, delight and pleasure. It's amazing! Isn't it?
Are you ready for Christmas? Would you like to feel the genuine Christmas spirit in the heart of Toronto, buy incredible gifts, spend a really good time with your friends and being a part of something fascinating? Have you ever seen Christmas tree? How's about Santa?
Let's go to Toronto Christmas Market in Distillery Historic District! This usually very wonderful place which is the home to many of Toronto's hottest designer boutiques, unique cafes, artisan shops, breathtaking galleries, performance venues and award-winning restaurants. The Distillery completely changes during these days and becomes the heart of Christmas in Toronto.
What is a Christmas Market? A Christmas Market is a street market which celebrates the traditional sights, sounds and scents and is staged during the weeks leading up to Christmas. These markets originated in Germany, beginning in the early 1400's, and are now being held in countries all over the world.
Would like to know hours of operation and how you can get there? Here you go:
Tuesday to Friday: 12 pm to 9 pm
Saturday and Sunday: 10 am to 9 pm
From King or St. Andrew Subway Stations:
take the eastbound 504 King streetcar to Parliament Street and proceed two blocks south to the Parliament entrance into the Distillery.
From King Subway Station:
Take the 172 Cherry bus and get off at one of three TTC stops on Mill Street to enter the Distillery.
From Castle Frank Subway Station:
Take the 65 Parliament bus south to one block south of Front Street and enter at the Parliament entrance.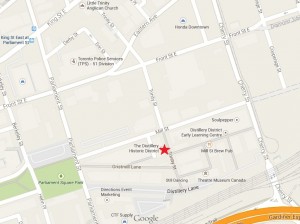 Find out more information about Toronto Christmas Market and Distillery District in the web:
www.torontochristmasmarket.com
www.thedistillerydistrict.com
Your EC English language center in Toronto is not only your language guide. We are happy to provide you much more other interesting information to make your English Studies something special.
Share your #ecexperience
Comments
comments